Understanding How to Mitigate the Most Significant Elements of the TCO Equation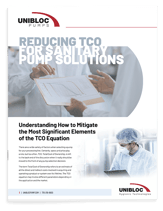 You've selected the right pump. You've installed it and trained your staff on proper maintenance practices and schedules. Now, you're facing the last question from plant management.
There are a wide variety of factors when selecting a pump for your processing line. Certainly, specs and price play a role, but too often, TCO, Total Cost of Ownership, is left to the back end of the discussion when it really should be moved to the front of any pump selection decision.
In this white paper, we take a closer look at factors that improve TCO, including:
Sizing the Pump Correctly

Ease of Disassembly and Cleaning

Front Cover Differentiators

Shaft Length and Diameters

Rotor Bolts vs. Shim Rings

Component Minimalization