Meeting Pump Sanitation Requirements for Food & Beverage Safety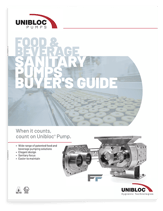 As a food producer, you're already familiar with the Food and Drug Administration's (FDA) Food Safety Modernization Act (FSMA) and how it changed the food and beverage industry from farm to fork. Identifying potential hazards and implementing protocols to prevent foodborne illnesses along every point of the supply chain is included – and critical for the health and safety of humans and animals.
When it comes to your food processing equipment, selecting the right sanitary pump that helps you meet the FDA's Current Good Manufacturing Practices (CGMP) requirements while maintaining product integrity is a crucial consideration.
This Buyer's Guide goes in-depth to explore three key subject areas:
What to Look for in Sanitary Pump Design and Components

Case Studies on Pump Performance in Food Operations

Design Specs for Selecting and Sizing Pumps